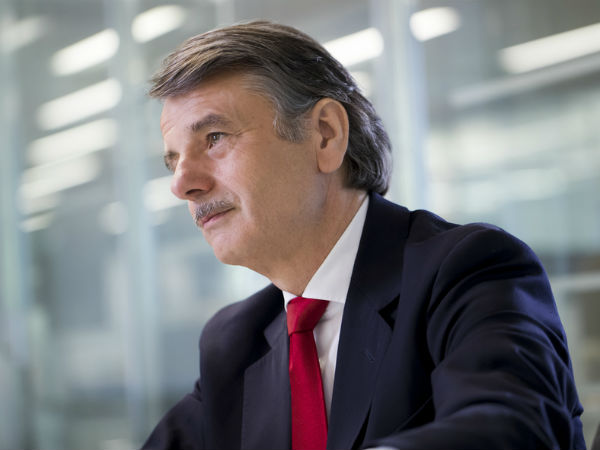 CEO Prof. Dr. Ralf Speth challenges UK Government to create a prosperous zero emission future
news
Our CEO, Prof. Dr. Ralf Speth, today gave a keynote speech at the world's first zero emission vehicles summit hosted by the Prime Minister in Birmingham.
The summit brought together policy makers, industry experts and opinion formers from around the globe to tackle carbon emissions and find ways to improve air quality.
Prof. Dr. Speth used the opportunity to outline the 'immense' opportunities for advanced manufacturing in delivering autonomous, connected and electric vehicles.
He also laid out the current challenges limiting both Jaguar Land Rover and the UK automotive industry's ability to deliver this bright future.
Key extracts from Professor Dr. Ralf Speth's speech:
ICE to ACE and the ongoing importance of diesel
"Autonomous, connected, electric vehicles will transform society. Zero emissions. Zero accidents. Zero congestion. The boost to productivity could be immense. The benefits to humanity huge. Clean air to breathe.
"A revolution that will empower the vulnerable and elderly with the freedom to travel. Electrified vehicles are a prerequisite for this.
"The internal combustion engine is far from being obsolete. It is a state-of-the-art technology, which we continue to refine and improve. All hybrid powertrains require internal combustion – diesel and/or petrol engines alongside electric technology.
"The diesel vehicles we currently produce to EU6 standards are some of the cleanest cars ever made - they are as clean as petrol, producing 20 percent less CO2. Yet they have been demonised. No incentive has been put in place to encourage drivers to changes from older polluting cars but a disincentive has been placed on newer cleaner models through higher taxation for diesel and petrol cars. That has cost jobs. It has cost revenues to industry and the Exchequer.
"Ours is an industry embracing revolution. Anxious to grasp our opportunities. We do not need sticks, nor carrots. We need our vision to be shared. Let us focus on that we wish to build rather than that we wish to ban."
Battery technology
"This is the country, where scientists invented the Lithium Ion battery. The challenge is to deliver the next transformation. It is vital for us that the UK remains a vanguard of innovation.
"The West Midlands is already at the forefront of next generation battery technology and Jaguar Land Rover is making a significant contribution towards this. Together with WMG we have created the National Automotive Innovation Centre. Our £150mn investment provides a first critical mass of research capability, combining automotive expertise nationally and internationally.
"The Faraday Battery Institution, a collaborative partnership between seven universities, and the UK Battery Industrialisation Centre are important steps in developing engineering platforms in the UK to industrialise battery production here and create jobs, rather than buying in from abroad.
"These are the beginnings of the foundations upon which we can build a global powerhouse of advanced manufacturing."
Infrastructure
"The recently published Road to Zero strategy is a welcome first step in setting out Government's intentions, but there is a long way to go. Government needs to be not merely regulators, but enablers.
"Smart and bi-directional charging - reducing the tariffs for charging outside peak hours - are vital. The alternative would be to plug in vehicles during evening peak demand - we would have to fire up our gas and coal power stations to charge them. What good are zero emissions vehicles powered by a grid that is reliant on fossil fuel?
"In the UK there are currently only 17,000 charging points compared to the 100,000 we need by 2030. There are only 1,700 rapid DC chargers - able to fill an EV battery in half an hour - compared to 9,000 fuel stations, with multiple pumps able to fill a tank in minutes.
"If we also want to realise the ambition for autonomous, connected vehicles we need the 5G network for them to link into. However, coverage must be at least 99% of land, not just population. This we cannot do alone. Public policy makers must lead across industry sectors."
Brexit
"It is currently estimated that a hard Brexit will cost Jaguar Land Rover more than £1.2 billion a year. Wiping out profit. Destroying investment in the autonomous, connected electric vision we want to share.
"Jobs have been shed when they should have been created. A thousand as a result of diesel policy. Those numbers will be counted in the tens of thousands if we do not get the right Brexit deal.
"Brexit is due to happen on the 29th of March next year. Currently, I don't even know if any of our manufacturing facilities in the UK will be able to function on the 30th. Like many British companies our supply chains reach deep into Europe. Bluntly, we will not be able to build cars, if the motorway to and from Dover becomes a car park, where the vehicle carrying parts vital to our processes is stationary.
"Our plants in Solihull, Castle Bromwich, Wolverhampton and Halewood in Merseyside, make 3,000 cars a day using 25 million components. We are dependent on 'just in time' processes. Any friction at our borders puts our production in jeopardy at a cost of £60 million a day. That is a world, where the bureaucracy of a customs official becomes more important than the craft of an engineer.
"Frictionless trade is not an aspiration, but a necessity for Jaguar Land Rover. Unfettered access to the Single Market is as important a part to our business, as wheels are to our cars.
"We are a quintessentially British company. That is our identity. Our commitment to this country is deep. Yet now, thanks to higher costs and the UK's poor productivity rates, it is thousands of pounds cheaper to produce vehicles in Slovakia than Solihull.
"What decisions will we be forced to make, if Brexit means not merely that costs go up, but that we cannot physically build cars on time and on budget in the UK?"
The opportunity
"It would be an age of foolishness, if we did not grasp the opportunities. We cannot afford to look through the window at what other countries are doing and hope to catch up. Our vision of them must firmly be in our rear-view mirror.
"More than 40,000 people in the UK alone are directly employed by Jaguar and Land Rover and a quarter of a million households rely on our success. They are not the only ones at risk.
"So too, are the futures of hundreds of thousands of people in this country, who will enjoy even more prosperous futures if industry and our supply chains can grasp the opportunities to become world leaders in these new technologies.
"As an industry and a country we have the talent. The question is, whether - as a society - we have the will. To reach a world of no emissions. Of safety. Better air quality. To get to destination zero first and by doing so bring abundance to our community.
"Give us the tools and we will build a better future for our industry, our communities and our country."
Related News