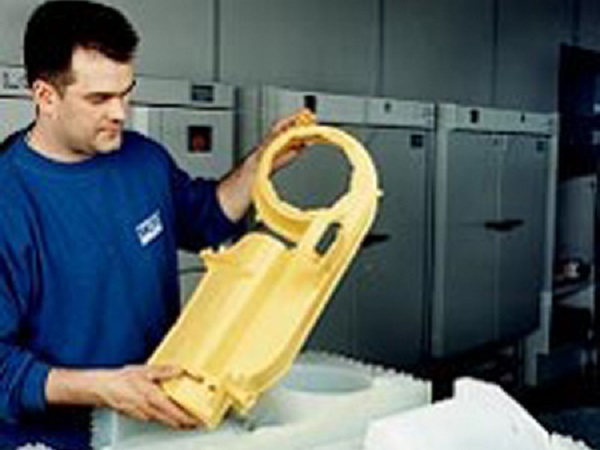 Jaguar Land Rover's history of 3D printing
long read
There is more to the XE SV Project 8 than mind-bending performance and race car looks. The fastest ever compact Jaguar saloon is also a pioneer of 3D printing.
3D printing uses computer data to create complex objects layer-by-layer, and saves time and money over traditional manufacturing methods.
On the XE SV Project 8 there are more than a dozen unique 3D printed parts fitted, as the technology is perfect for low volume production.
In this sense this is nothing new for Jaguar and Land Rover. Each company was an early adopter of the technology from the 1990s.
As the technology developed so has Jaguar Land Rover's ability to manufacture 3D printed parts for prototyping, design, and now, for production cars. But where did it all begin?
Getting into 3D printing with Austin-Rover
In 1992 the Austin-Rover Group, who owned Land Rover, became an early UK adopter of additive manufacturing technology.
After investing in computer aided design (CAD), Austin-Rover could see the potential of 3D printing – engineers loved its ability to turn their designs into physical products.
Jaguar had been watching with interest, but as a smaller company they couldn't invest at the same speed and scale at first.
With the technology in its infancy, it wasn't easy to make good quality 3D printed parts. These early printers weren't 'plug and play' devices, so the earliest adopters had a lot to contend with.
Getting the CAD data in the right shape to produce a good quality printed part wasn't easy. The technology wasn't ready to produce good enough parts – it needed time and money.
Jaguar joins the 3D printing party
Although Jaguar invested in 3D printing three to four years after Land Rover, the team learned quickly, as Austin-Rover toiled to get the best out of CAD and 3D printers.
The excitement to join the early adopters was understandable. Jaguar's engineers were used to machining prototype parts from a solid block of material – 3D printing would allow them to create difficult or complex parts more easily.
Jaguar's and Land Rover's design teams are still the keenest users of additive manufacturing, quickly creating and crafting parts to fine tune pre-production models.
In 2014, the separate Jaguar and Land Rover teams joined together at Gaydon. Four years later, a new purpose-built Additive Manufacturing Centre, housing 16 industrial 3D printers, was opened. At the same time, a team of 3D printing experts began exploring new uses for this technology.
3D printing for the future
For years both Jaguar and Land Rover had been printing 3D parts for prototype use only.
Recently that has changed, with a new generation of 3D printing technologies improving quality and lowering parts costs. Jaguar Land Rover secured early access to many of these additive manufacturing technologies, including becoming the first in the UK to use HP's Multi Jet Fusion process.
But what did this mean for Jaguar Land Rover?
The new technologies allows the production of more affordable parts – ideal for manufacturing in low number.
Unlike injection moulding and other traditional manufacturing processes, 3D printing has no upfront investment costs for tooling, and this has allowed the team to produce their first parts for production vehicles.
Jaguar XE SV Project 8: a hotbed for 3D printing
The Jaguar XE SV Project 8 is one of the first vehicles to feature 3D printed parts. The exclusive super saloon features multiple parts from Jaguar Land Rover's Additive Manufacturing Centre, including brackets and interior trim.
Examples include the rear parking sensor mounts bonded to the inside of the carbon fibre bumper, and racing harness bezels fitted around the track edition seats.
The team has also gone on to reproduce the hard-to-find squab handle found on the Discovery 2, and a specially designed glove prototype that will protect colleagues on the production line from musculoskeletal disorders.
Gallery