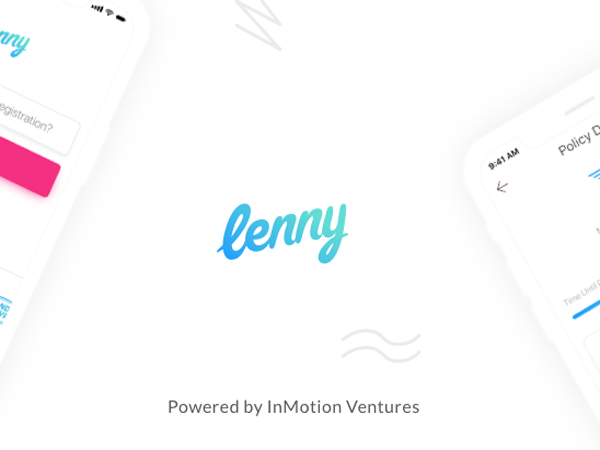 Meet Lenny: The insurance provider helping Jaguar Land Rover attract younger drivers
news
The automotive industry is changing quickly as manufacturers' focus on an autonomous, connected, electrified and shared future.
Car ownership is also changing. In the future it is believed that owning a vehicle won't be commonplace, so having alternative mobility solutions is a must – as does making sure you are insured correctly.
While this may be some way off yet, the change is starting to happen now as a number of on-demand car insurance providers are starting to appear.
TeamTalk caught up with Karin Nielsen, Founder and CEO of Lenny – part of Jaguar Land Rover's venture capital firm InMotion Ventures' portfolio – to see what the future of car insurance holds and what it could mean for the business.
Let me introduce you to Lenny
Lenny was developed to make car insurance more personal, less transactional, and allow anybody to insure a vehicle quickly via a smartphone.
Whether you are looking to let your children borrow your car for the day, or taking a stint at the wheel on a road trip for a few hours, Lenny can have you comprehensively insured in minutes.
But where did this idea originate from?
Karin explains that the younger generations' habits when it comes to car ownership and insurance are changing, with more people looking to be covered for hours or days rather than an entire year.
The problem is that traditional insurance companies haven't so far been able to exploit this growing trend, and increasingly technology start-ups have filled the space – thanks to their agility, technical capabilities and customer centric focus.
Karin says: "We designed what the perfect proposition should look like for a customer and teamed up with an insurance carrier to underwrite that product.
"Our primary customers on average are 24 years old, and our average demand is coming from 17-19 year olds – who just want to borrow their parents' car. The combination of young drivers borrowing nice cars over short periods goes against traditional underwriting experience. For that reason, it was a very tricky proposition to take to a conservative industry, where they don't like new kinds of risk.
"For some customers we are the first insurer they interact with, which is why we have to pitch our offering at the right level. We found that people are intimidated by that term and have pre-conceptions about what they think insurance is."
Although there were challenges getting the product to market, traditional insurers and aggregators are acknowledging that on-demand insurance is the future. After two and half years of development, user testing and fine-tuning, Lenny officially launched on 1 April, becoming one of the first mobile app car insurers to join the fast-growing market.
Karin believes that on-demand insurance was always going to happen if you look at the main consumer trends over recent times.
"Young people are starting to gravitate away from ownership to on-demand solutions. And that is not just the case in mobility. It is the case with everything. If you think about Spotify, it makes much more sense to pay a subscription and play whatever you want, when you want.
"You now have Uber, bicycle schemes, e-scooters, etc. plus the cost of ownership is rising, so it is less necessary to own a car. For that reason they are deferring owning a car until later in life, but that doesn't mean that they don't drive.
"Lenny is the perfect proposition for those who have passed their driving test, have access to a car, but don't own one themselves. They see it as an alternative to renting a car and to buying an annual insurance policy."
Other factors are coming together to change the way mobility is delivered and how people think about it. Usage based services are already upon us and it is only going to become more common as the technology and connectivity improves.
What does the future of car insurance look like?
While technology start-ups are leading the on-demand car insurance market, Karin says it will see rapid growth as traditional insurance companies create their own propositions.
"The competition will be good for the customer. The start-up has the advantage because we can replicate the distribution and underwriting knowledge. It is harder for an insurer to replicate the technology, user-friendly interface, and proximity to our target audience that we have."
The future of autonomous mobility solutions is still a way off, but the insurance market is adapting already, with usage-based insurance policies starting to take precedence.
InMotion Ventures already has two propositions to its name, both offering slightly different options, in Lenny and ByMiles. And that is just the beginning.
Karin explains this market is already mature in America, and the focus is quickly moving to incorporating artificial intelligence and eventually biometric data. The future could see you set up a profile which every car you drive recognises, and your insurer bills you monthly for the time you need cover for.
"This is a really positive thing for Jaguar Land Rover to be involved in. Jaguar and Land Rover are considered aspirational vehicles, ones that young people want to own when they get to a certain point in life.
"People are delaying those car ownership decisions now, and being at the front of their mind is the difference between them looking for a Range Rover and not a Mercedes-Benz or a BMW.
"What Lenny does is it allows owners of Jaguars and Land Rovers to share their cars with a much younger audience. As a parent I can lend my kids the car for as long as they need it, and that emotional attachment is built up very early on and is front of their minds.
"That is the way of getting much younger people into a car."
Why not give Lenny a go yourself by using the discount code – REWARDSJLR10.
The offer is restricted to the UK only.
Gallery