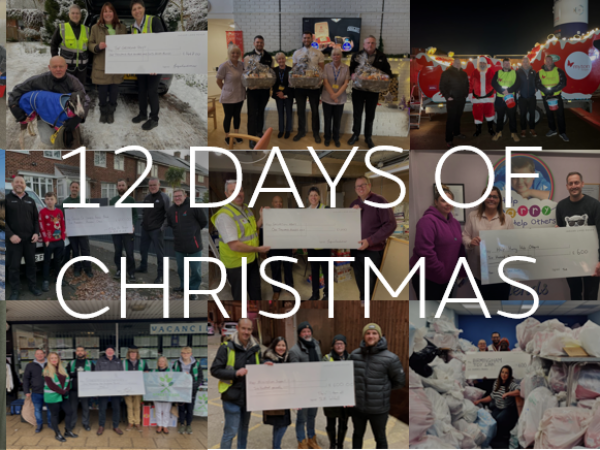 OVER £12,00 GIVEN FOR 12 DAYS OF CHRISTMAS
news
From 1 to 12 December, the Solihull Senior Leadership team supported 19 local charities and community causes in aid of our annual '12 Days of Christmas' campaign.
From 1 to 12 December, the Solihull Senior Leadership team supported 19 local charities and community causes in aid of our annual '12 Days of Christmas' campaign.
This campaign helps us provide hands-on support and monetary donations to those in need this Christmas. Nominations were collected from colleagues around site of local causes and charities looking for help and then pulled at random by the Senior Leadership team, to go and support.
Thanks to our colleagues' incredible donations, we donated a total of £12,000. Some of our teams worked with impact to raise additional funds for their chosen causes.
Changes UK - Supporting people in recovery from addiction (alcohol, drugs, etc).
Myton Hospices - Providing care and support for people living with a terminal illness, and their families, in Coventry and Warwickshire. The Site Services team towed a Santa Sleigh and collected all important donations for the hospice.
Trussell Trust (Sparkhill) - A food bank providing emergency food and support to people locked in poverty, and campaign for change to end the need for food banks in the UK.
All Saints Youth Project Tea Time Club - A youth club providing support and activities for the local community, helping through counselling, activities and holiday schemes.
Greyhound Trust Dudley - Helping secure a bright future for Britain's retired racing greyhounds.
Friends of Isaac's Food Bank in Redditch - Set up by Isaac, a young boy from Redditch, this food bank helps provide much needed essential items to the local community.
Streetfeeds Coventry - Set up over 12 months ago by Nisha and a few volunteers to offer some hot food, clothing and essential items to the homeless and vulnerable people of Coventry. On Saturday 17 December, we had a number of people from the BIW launch teams, collecting donations, serving hot food on a stall and walking the streets serving hot food to the homeless. As well as donating £1,200, plus £400 in food and sanitary products, the team also drove to shelters, dropping off hot food for the residents, in our fleet of JLR vehicles.
Seeds of Hope Kingshurst - Set up in 1998 to promote and encourage a range of community activities in the North of Solihull, an area that comes within the bottom 10% of deprived areas in the country, as measured by government data. Recently, they used our donation from 2018, to bring a bus full of elderly people to the seaside, they've also put on karate and taekwondo lessons for a range of people they support from children to adults in need. The team donated a total of £1,050 to the charity.
Alexandra House. Sir Josiah Mason Trust, Olton - Offering people in need access to opportunities, hope and a place where they belong through the provision of quality housing, care, support and education. The team from FA3 went over to Alexandra House, giving gifts of hampers and spending some time with the elderly residents there, who will be lonely over the festive period. The team even bought some of the furry friends to cheer up the residents!
The Heart of Forest - Focused on the conservation and restoration of native woodland in Warwickshire and Worcestershire. The Forest is located in an area that was covered by the ancient Forest of Arden before deforestation. As well as the monetary donation, the team helped to prepare the woodland by 'coppicing' - cutting back some trees for new regrowth.
Mount Zion Community Church - Preparing and delivering hot meals to the local community. As well as the £600 donation, the Paint team raised additional funds, collected several bags of clothes and visited Mount Zion, to help prepare over 200 meals, lay out clothes to offer to the guests and dishing up and delivering of these meals to those in need, in the local community. The money raised will help buy presents for further homeless people and those staying in hostels in the area as well as helping with a Christmas meal for the local elders and more charitable giving before and after Christmas.
Pastor Marva and the team work tirelessly through the day and do so many times throughout the year to support their local communities. John Sutherland, Paint, MNF & Maintenance Senior Manager thanked the team and said "it was a really magnificent show of unity, love and community spirit that was a real privilege for me to play a small part in and I know the donations we were able to make will make a real difference to lots of people over the coming days up to Christmas. Thank you to everyone who donated money and clothing from the Paint team and thanks to Tom, Andy, Sabrina, Frank, Debbie and Mark for giving up their weekends to help make it happen."
Help Harry Help Others - Supporting people with cancer as well as their families and friends, with all kinds of non-medical services, such as counselling, children's activities, wellbeing classes, financial support and research funding with aim of one day finding a cure. The BIW team visited the centre to learn about what goes on and what amazing support services they provide. They met Harry's mum, Georgie, who spent time showing them around the centre and sharing some heart warming stories about the great work they've done over the years.
Birmingham Support Group - Volunteer based group in Birmingham City Centre offering support to the homeless of Birmingham and providing food, clothing and sleeping bags. The Finance team attended a food bank they run, to help with the distribution of food to those in need. Our donation helped them retain access to supermarket and bakery leftovers that they collect and distribute to the needy in Birmingham weekly. Most of the people supported live in sheltered or supported accommodation or hostels in Birmingham, or are homeless.
Emmanuel House Support Centre (Nottingham) - An independent charity that supports people who are homeless, rough sleeping, in crisis, or at risk of homelessness in Nottingham.
University Hospitals Birmingham Charity - Supporting poorly children and adults. The money from our donation will be used to buy presents for children staying at the hospital, as well as buying Christmas trees, toys and some treats for the doctors and nurses.
Salvation Army Lifehouse (William Booth Centre) - Provide a safe, supportive environment for individuals, helping them make positive choices about their current circumstances.
Birmingham Toy Link - Every Christmas, Birmingham City Mission provides gifts to around 3,000 people in the city, who would otherwise not receive any presents.
Birmingham Children's Hospital Ward 11 (Cardiac Ward) - Providing care for newborns to 6 month old babies with heart conditions. At the request of the Wards Sister, the cash donation was used for the parents' coffee lounge which included Christmas Decorations, cutlery and food for the parents and nurses over the Christmas period. She also requested presents for the 14 little patients that are currently being cared for on the ward. The cash donation allowed the Supplier Parts Quality team to do all of this including buying 14 soft toys and 14 sensory toys so the children had something to open on Christmas morning (the team even attempted to wrap them)!
Cars Area Together - Aiming to work together with local Cars Area residents to develop their community. Part of the work they do is encouraging and supporting activities and events that local residents have requested. Named 'Cars Areas Together', due to all the streets in the area being named after car manufacturers: 'Austin drive', 'Rover drive', 'Daimler close', etc. Most of the old people living there also worked for these car companies. As well as the donation, two of our Plant Quality colleagues volunteered for the day to host a Christmas lunch.
A big well done to everyone who took part and for making this a truly special season of soul for our Solihull plant and local communities.
Gallery