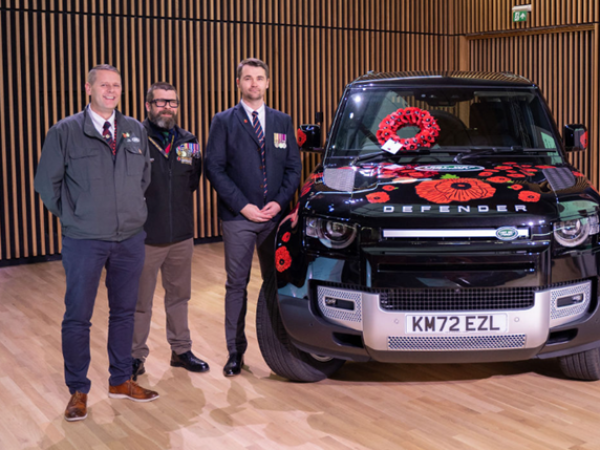 REMEMBRANCE, RECRUITMENT AND THE ARMED FORCES COMMUNITY NETWORK
news
Remembrance is one of the most prominent times of the year for many of us across Jaguar Land Rover but in particular for the Armed Forces Community Network.
Jaguar Land Rover has a fantastic relationship with the military and was one of the first companies to sign the Armed Forces Corporate Covenant in 2014. This commitment to supporting those serving or who have served in the Armed Forces and their families was a key element to Jaguar Land Rover securing a Gold Award status in the Defence Employer Recognition Scheme in 2015. We have proudly held this status since then, largely due to the combined backing of HR, a growing sub-set of allies, advocates and our very own Armed Forces Community Network (AFCN).
This network was organically formed to bring together veteran employees, Reservists, Cadet Forces Adult Volunteers, military spouses/partners and parents and other employees who support our Armed Forces. As well as this, the network also helps to create a more inclusive environment - actively promote greater awareness of the incredible skills and experience veterans, Reservists and military spouses/partners can bring to Jaguar Land Rover and help advise and mentor those wishing to join us.
DID YOU KNOW: Over 14,000 skilled individuals leave the UK Armed Forces every year.
Since 2014, Jaguar Land Rover has recruited over 1,000 talented and motivated individuals from across the military into Business Protection, Product Engineering and Manufacturing to name but a few. They have brought their skills, knowledge and behaviours to the company and Powertrain was a key initial success story within Product Engineering. As early champions, Rob Penfold and John Houldcroft were instrumental in allowing the network to grow within Powertrain, enabling the careers of many veterans to start with a purpose that has continued to grow since.

The Armed Forces Community Network is a member of Jaguar Land Rover's Diversity and Inclusion forum. Throughout what has been a difficult couple of years for everyone, they have been incredibly active in recent times:
We deliver a massive recruiting effort on behalf of the company by representing Jaguar Land Rover at many military engagement events and hosting insight days at our sites. In addition, we also provide the often-required mutual translation of Jaguar Land Rover job specs and military CVs to facilitate positive approaches.
We conduct fund raising events across all our sites, allowing our members to give something back
We host key military commemorations such as Armistice Day, Falklands 40 and Armed Forces Day with services, conferences and touring sites with our eye-catching wrapped Poppy Car (pictured below)
Our members are a source of support to each other, helping to retain those who have joined Jaguar Land Rover, especially in those challenging first few months. When an understanding ear is required for any reason, it often helps to talk it through with someone who can empathise.
Traditionally, we have been very effective at employing those who have come from engineering trades within the military into roles at Jaguar Land Rover, particularly within Powertrain and Electrical Engineering.

However, it's not just the trade skills and qualifications veterans bring, but also other attributes such as Agile ways of working, problem solving, project and programme management, learning and development and leadership.

In the industry, leadership training often only begins when you move into a position with responsibility. In the military leadership training starts from day one.
Steve Lees
Armed Forces Engagement Programme Manager, Jaguar Land Rover
The AFCN will be very active during the remainder of 2022, providing further recruitment engagement, D&I forum participation, exploring opportunities for expanding our collaboration and reach whilst also planning to make 2023 our biggest year to date.
The network has a clear identity amongst veterans but equally aims to be fully inclusive. We welcome approaches from everyone wishing to become associated in any capacity; from seeking support, participating in events, leading site engagement, or acting on behalf of the network as part of our committee, there's room for everyone in the Armed Forces Community Network.
If you would like to know more about to attract and hire service leavers, veterans and military spouses/partners for your team or feel you could provide a short work placement opportunity to give a service leaver an insight to the automotive industry, contact our Armed Forces Engagement Programme Manager, Steve Lees (SLEES5) or one of our Co-Chairs for the JLR Armed Forces Community Network, Steve Chessell (SCHESSE1) or Gregg Niblett (GNIBLETT) to find out more.