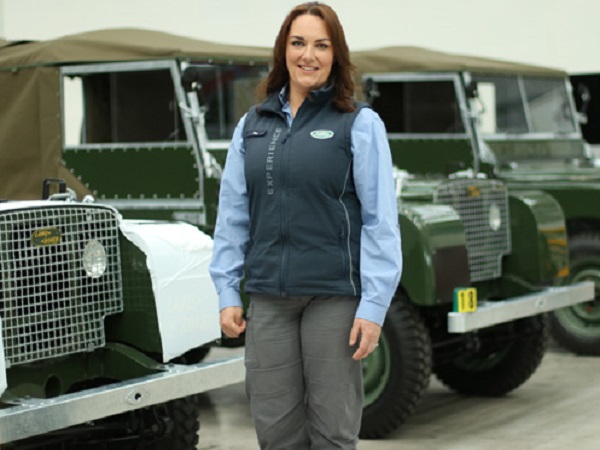 Ro Furby gives an insight into life as an experience instructor
news
Ro Furby joined the Experience team six years ago, and now works at our Solihull Experience Centre as Lead Instructor.
Every day is different at Jaguar Land Rover Experience and Ro explains what it is like to work there.
What does it take to be a Land Rover Experience instructor?
You've got to be a real chameleon. You adapt, depending on who your guest is and what they want to get from their Experience. Aside from the driving skills, of course you have to have patience and the ability to teach other people, but the key is forming that connection as soon as they walk through the doors to the venue.
I've worked with guests who are really nervous of off road driving, helping them to improve their driving techniques and confidence – and I've also had overconfident drivers who I've had to rein in a bit.
Handing over the wheel to someone else who you've only just met might seem like a daunting prospect, so you have to be able to keep calm and ensure that you are always in control. The cars are so capable though and there is so much technology that we can show to our guests.
For example, some of our guests are amazed at the difference that simply selecting low range makes, in terms of controlling the vehicle.
What's your favourite thing about being an instructor?
I love the variety. We meet so many different people and get to do so many different things around the world. It's a fantastic job.
Whether we're on event or at the driving experience venue, every day is different. At Solihull, we are the home of Land Rover and we get to meet many people who are so passionate about the brand.
When the last Defender rolled off the line in 2015, one couple drove all the way from Argentina to bring their Defender home and see where Land Rover started. Spending time in the car with these people and hearing their stories is wonderful.
Have you got any great stories from your time as an instructor?
I've been so lucky to do such a range of different things. I met Prince William when he visited the factory and we negotiated the Rock Crawl climb. It was very surreal to meet someone you've only ever seen on TV. He told me to shout at him if he was doing anything wrong but I did suggest that might be career limiting.
Another thing that I really loved doing was helping an injured servicewoman, Stephanie, to regain her confidence in driving following a horrific car accident.
Stephanie had been training with the RAF in Poland, and following the accident, was left with extensive physical injuries and post-traumatic stress. We worked together to rebuild her confidence with off road driving and overcome her fears. It was a huge privilege to be able to help someone in that way.
Which is your favourite vehicle and why?
It's so difficult to choose a favourite, because I have so many great memories working with most of the cars. We're so lucky to have such capable vehicles and such great tracks and obstacles to show them off on.
I've always loved the Land Rover Discovery – and it was Discovery that brought me to Land Rover. I've had four myself and they are so versatile. It doesn't matter what I ask it to do - it just says "ok, no worries, off we go".
What do you want to do next?
Like all instructors, I'd love to go to some of our other Experience Centres, for example the Ice Academy in Sweden, or Moab in Utah.
We have some fantastic simulated obstacles at Solihull, but, as instructors, we learn so much with our vehicles in these unfamiliar extreme terrains, from rock crawls to sand dunes. This also allows us to talk with experience and confidence to our guests, when we are sharing our knowledge with them.
Other than that, I love working with the team, here at Solihull. We have such fantastic tracks and we all love showing off our vehicles around them. We have a couple of external events this year, where we are taking the vehicles out and about to show more people what they can do. It is such a pleasure to do these events, as people are genuinely amazed by the cars and their off-road capability.
There are some exciting times ahead, with new vehicles on the horizon and I know that, like me, the team is looking forward to getting involved wherever we can. There will be new tech to learn about and lots of new guests to share it with.
Gallery