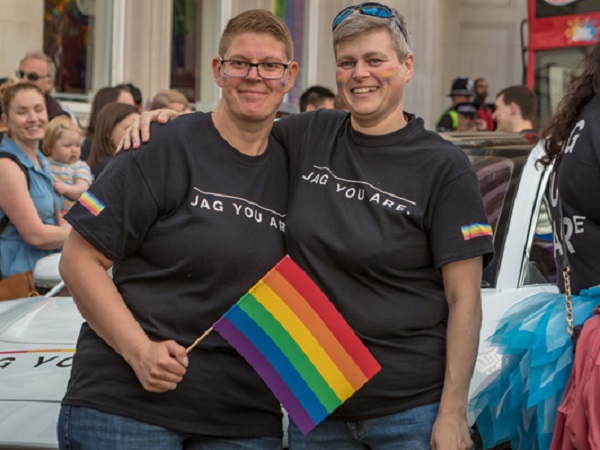 Showing great PRIDE in our partnership
news
In this series, we celebrate the diversity of our people across Jaguar Land Rover. We meet Anita Hansen and Vicki Gavin who open up about being in a same-sex partnership.
Although PRIDE celebrates the beauty of diversity across the world, it also highlights some of the plights our LGBT+ colleagues still face.
However, Anita Hansen and Vicki Gavin's partnership shows things are improving and people are becoming more accepting.
The couple, who met in 2005, work hard to support LGBT+ colleagues at Jaguar Land Rover. They stress that supporting PRIDE and its events is not just about advocacy.
"A positive outcome would be for more recognition that people like us are contributing to the company and we're just a normal couple. We walk our dog, do the commute, and have good days and bad days at the office, just like everyone else," Anita said.
"We've joked that we don't go around wearing big feather boas or heaps of glitter, like many might stereotypically believe a LGBT+ couple would. We're more likely to be out shopping or doing chores than attending a big parade.
"But that's an important point to get across – we're pretty much like any other hard-working couple at Jaguar Land Rover."
Anita and Vicki have had different experiences when it comes to discussing their sexuality and partnership with colleagues.
During her six years at Jaguar Land Rover Anita, who is an International Project Analyst, has always felt confident about herself and not faced many awkward or unpleasant situations in the workplace.
"By the time I joined Jaguar Land Rover, I'd already worked in the automotive and aerospace industry and had plenty of workplace experience. It also helped that I am originally from Denmark and the culture there has been very progressive in terms of people accepting who you are."
Vicki's experiences have not always been so straightforward however.
She joined Jaguar Land Rover five years ago and works in the heart of manufacturing as a Group Leader at Solihull, validating huge numbers of vehicles each week and overseeing the Wheel Alignment Headlamp Adjustment rigs.
"There have been some uncomfortable moments when I have sensed people do not approve of who I am for various reasons. However, I am not going to hide away, and the challenges of meeting our targets and getting cars to customers is always my main focus."
She is quick to acknowledge the support she receives, adding: "My team is really tight-knit and we have a great relationship, so I know that if something more unpleasant happened they'd quickly rally round me."
The couple, who got engaged in 2006, are clearly at ease discussing their relationship and underline that while at work they want their professionalism to be the main discussion point.
But as Vicki explains, not everyone will be in the same position in a settled and strong relationship, and more work around acceptance needs to be done.
"We can talk about our day and have a laugh or a moan. But it is not so easy for a single youngster or someone new to the business. There can be a lot of underlying anxiety about whether to say something and just what the reaction will be.
"The PRIDE Network is here to help and people like Anita and myself are trying to communicate this to people who are perhaps not in our situation."
Gallery