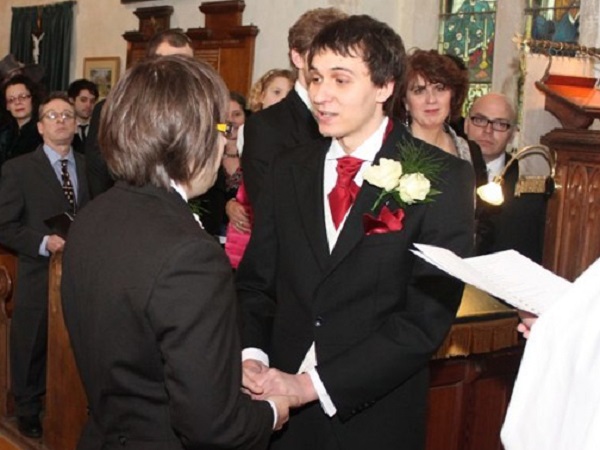 The PRIDE of finally being recognised as a legally married couple
news
In this series, we celebrate the diversity of our people across Jaguar Land Rover. We meet Business Transformation Manager Daniel Yarwood-Ross who has an inspiring story of love to share.
There were some daunting challenges along the way, but thanks to quiet determination and hard work, Daniel is enjoying married life with husband Lee.
Daniel says: "When I tell people I have been wed three times they're quite surprised. I quickly need to explain that there is only Lee, and that we've been inching ourselves towards being officially married.
"I suppose our journey is about the challenges a gay couple can face and our desire to have a marriage that feels right for us."
Daniel and Lee – who met at secondary school in Essex – decided they wanted to marry in 2012. The only option available was a Civil Partnership.
"I am from an Anglo-Italian family, so I am also Catholic. My dream was to get married to Lee in a church and in front of our friends and families."
He understood there was no chance of a Catholic wedding, but believed a Church of England wedding would be straightforward. However, the pair felt downbeat after several vicars said they would only give a blessing in their home.
The breakthrough came when they found a small parish church in the grounds of a stately home. The vicar was happy to support their union in the church and was excited to be part of their day.
The first step was a small ceremony at a Register Office which gave them Civil Partnership status.
The couple kept the event very low-key with just a couple of guests – this wasn't what they wanted their wedding day to be.
"It was good to have our partnership recognised, but it felt business-like and more about the legal practicalities and status. It wasn't the wedding we'd set our hearts on."
Then came the service itself, a Christian blessing with the vicar, which followed the marriage ceremony as closely as possible. Daniel and Lee consider this to be the official moment they got married, and celebrated with family and friends.
"We were so grateful to the vicar who managed to design something so close to a traditional wedding service – so much so that most guests couldn't tell the difference."
But Daniel and Lee weren't finished there. As the law regarding gay marriage changed, they decided to tie the knot for a third time.
In 2015, on their third anniversary, they returned to the Register Office to become legally recognised as a married couple.
The journey has been a long one, but now Daniel and Lee are focused on enjoying married life with driving holidays to Italy, the odd game of badminton, and helping Lee achieve his PhD.
Daniel said: "Every community wants to feel included and to be able to make a contribution. That's why the conversations and practical support for the LGBT+ community here at Jaguar Land Rover is important, and the PRIDE network and its Champions are a vital part of driving this forward."
Gallery